Is Botox for Me?
Botox® can work for anyone seeking a strong and proven anti-aging injectable. The Top 5 benefits include:
Anti-Aging - wrinkle removal.
Restoration of facial volume that occurs with age & over time.
Lip Enhancement - provides a more hydrated look to lips, smoothing upper/lower lip lines.
Enhanced cheek bones, enhanced jawline.
Shape/contour faces to enhance desired features.
We provide professional Botox injections in our Whittier facility Mon-Sat. Serving Buena Park, Cerritos, and surrounding regions.
Average times vary, but can be in the minimum of 25 mins to maximum of 45 min range depending on number of applications & body area. Read below to see the common Botox treatment areas.
---
---
Best Botox Treatment Areas:
Common Botox injection areas.
Forehead

Crows feet around eyes

Lips

Under Arms

Frown lines between eyebrow

Nose-  bunny lines

Corners of mouth

Masseter muscles in jaw

Neck- platysmal bands

Palms of hands

Top of head for male pattern baldness
---

---
More Benefits of Botox:
There are multiple benefits to using Botox throughout the body. Botox most commonly achieves these benefits:
Anti-Aging - Forehead wrinkle improvement

Anti-Aging - Improvement / treatment of crows feet

Lip Enhancement

Sweat Gland Treatment under arms and hands

Lift corners of mouth

Soften prominent neck bands

Slim jawline

Prevent hair thinning/restore hair growth
---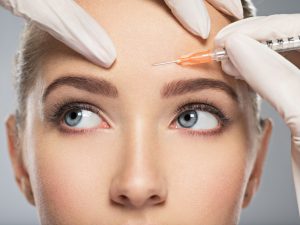 Get Botox Services Near Whittier:
Botox is the most used med spa injectable, and for good reason. Botox benefits both men & women. If you're near our Whittier office, you'll never have to ask; "where's the best Botox near me?" again! Call us for a complimentary consultation on Botox services in Torrance or Whittier. (562) 273-3337.
Valentines Day Med Spa Promotions include specials for the following services: ...